Cannabis beers made their fist commercial appearance in 2015 and 2016, when as reported by Forbes, Aurora, CO based Dad & Dude's Breweria offered tastings of General Washington's Secret Stash, a cannabis-infused beer, at the Great America Beer Festival—to consistent long lines."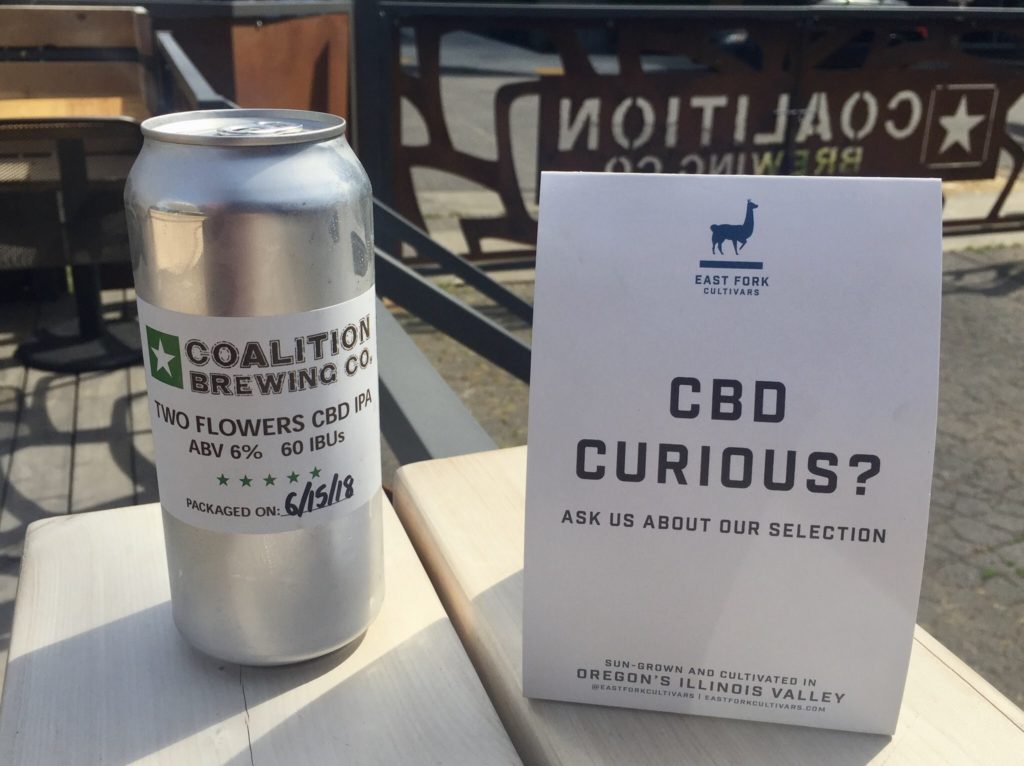 After learning of this venture, in September 2016, Phil Boyle, manager and co-owner, Coalition Brewing, and head brewer Elan Walsky decided to focus on brewing a beer that would take advantage of the properties found in both cannabis (Cannabis sativa) and hops (Humble lupulus), both of come from the same genus Cannabaceae family of plants.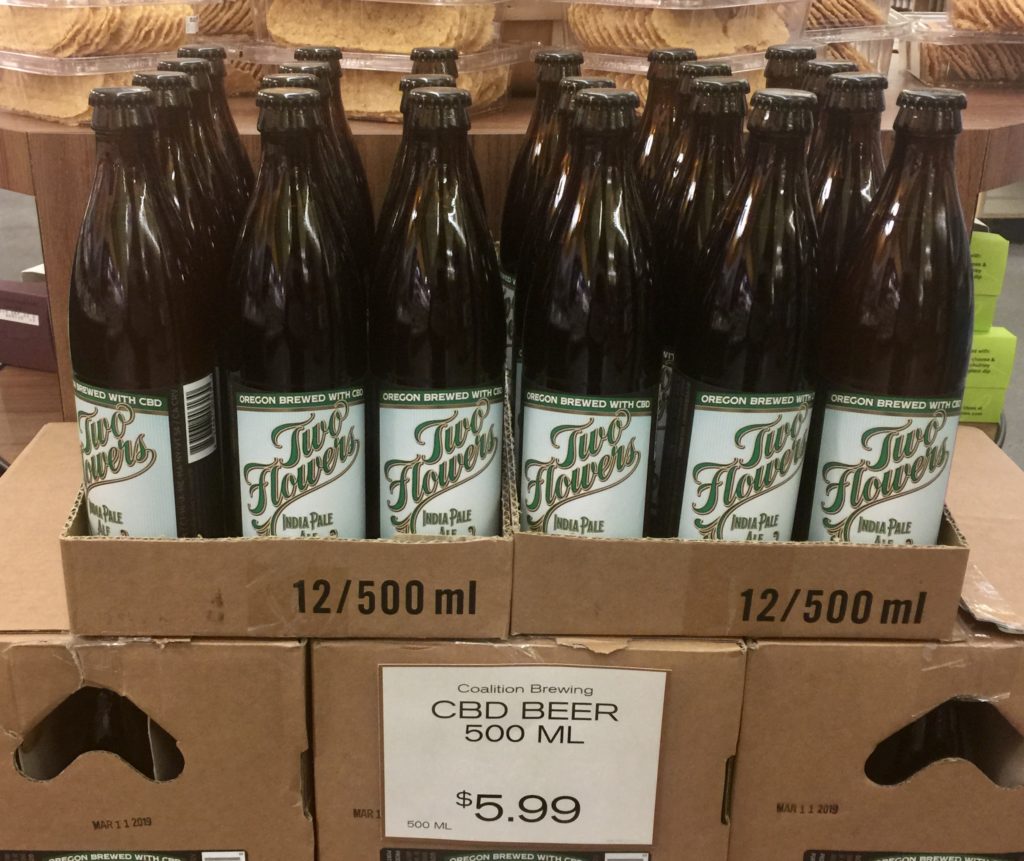 So, they connected with Bill Stewart, a chemical engineer with Half Baked Labs on developing a proprietary method for keeping the integrity of the CBD intact as they add the CBD into the beer. In 2016, they launched their flagship CBD Two Flowers IPA which they now have available on tap, as well as in cans and bottles. This beer is marked as the first CBD beer in the country to go on a retail shelf and will be exclusively only available in Oregon.
Currently, they have about six CBD beers on tap at any given time, along with beers infused with terpenes from True Terpenes. Among their their collaborations include a partnership with East Fork Cultivars in creating "Certified" a Hazy CBD IPA with Tangie Terpenes.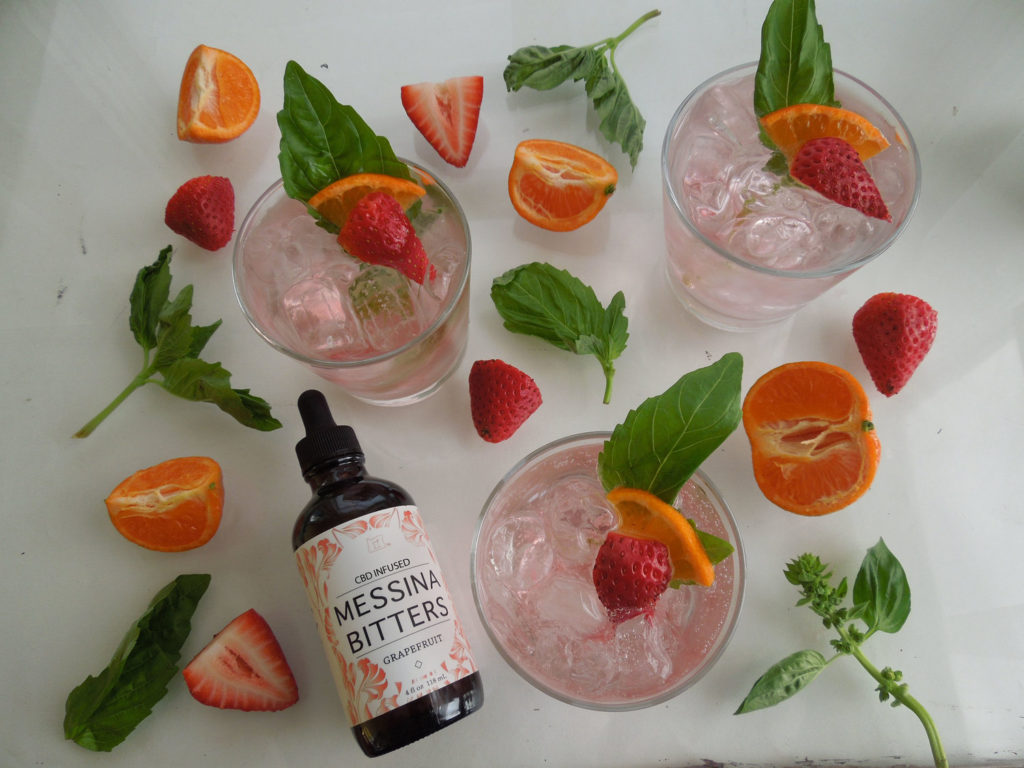 Moving forward, Boyle is launching his line of CBD infused bitters with Messina Bitters where he plans to team up with Rose City and Townshend Distillery and handful of bars to pilot offering CBD infused cocktails. And they plan to release a "Home Brew Kit" in partnership with True Terpenes and F.H Steiberts Home Brew Supply where they will be showcasing a NW IPA made with Jack Herer Terpenes.
Along those lines, brewpubs like StormBreaker Brewing offer customers the option of having CBD drops added to their beer. This year they are collaborating with Danodan for a 4/20 beer called Danodank CBD IPA. This West Coast IPA is brewed with Chinook and El Dorado first wort hops, then with Simcoe and Citra in the whirlpool. Then they will dry hop with large amounts of El Dorado and Simcoe, which will provide a nice citrus/floral backdrop for the CBD to flourish.
Rise of THC Non-alcoholic Craft Beer
While the federal legalization of hemp led to this explosion of hemp derived CBD beers, the same cannot be said of THC-infused beer. Federal law prohibits putting cannabis into any alcohol-based product or selling any product containing cannabis outside of a licensed dispensary. (When you see a product for legal sale outside of a dispensary, it should be made with hemp-derived CBD. Think of hemp as a first cousin to cannabis with many of the same properties found in cannabis derived CBD.)
Those interested in experiencing a THC buzz while savoring the taste of a beer can check out cannabis infused nonalcoholic beers available for sale at cannabis dispensaries in the states where cannabis is legal.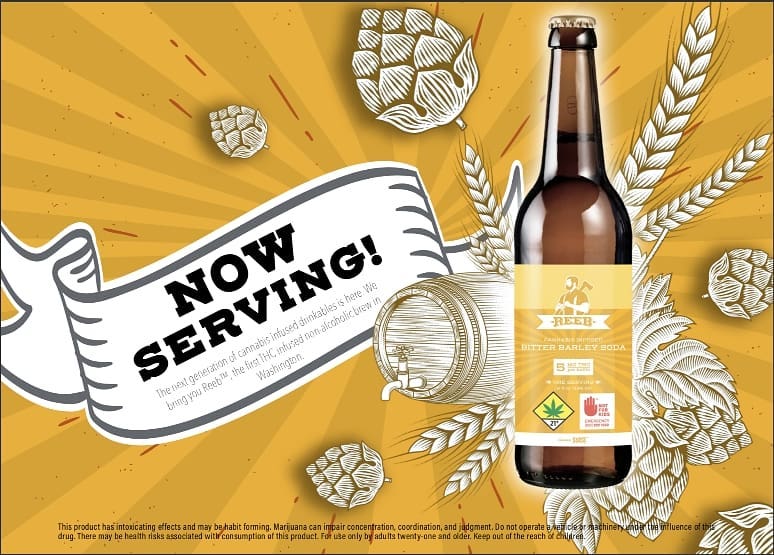 For example, REEB, the first THC infused non-alcoholic brew available from Washington State based SōRSE. This brew is available in a bitter barley commonly referred to as a Pale Ale ale, a light barley known as a Pilsner, and a roasted barley which is most similar to a Stout. This brew comes in a 12 ounce bottle and available in four strengths of THC ranging from 5mg to 100mg. Other THC products available from SōRSE include Happy Apple cider, Utopia flavored sparkling water, and Vertus, am alcohol-free, champagne style beverage.
The Future of CBD Infused Beer
As reported earlier on Marylyn, CBD beers have been making inroads at regional craft beer and food festivals. Also, Dad & Dude's Breweria was purchased by Cannabiniers, a "cannabis brand management company" that's behind four lines of cannabis-infused beverages including Two Roots Brewing Co. (non-alcoholic, cannabis-infused beer). Other regional brewers looking to make a national splash in the cannabis space include Lagunitas, who teamed up with AbsoluteXtracts to make a THC non-alcoholic beverage and a cannabis and hops cartridge.
With international brands like to Constellation Brands, maker of Corona beer, and Anheuser-Busch InBev entering the cannabis space, expect to see a flood of Budweiser 'n' Bud type drinks. But the craft conversation isn't for the McMarijuana crowd, but designed for those who seek out beers made for taste brewed via sustainable and organic means.